Almond Blossom Route – Tenerife hiking trail
One of the natural highlights of the winter on Tenerife is to see the countryside perked up by the addition of delicate pink almond blossom. This particular route can only be taken from late January to March, when the almond trees are in full bloom.
Technical information
Degree of difficulty: Intermediate
Type of trail: Linear
Distance: 9.12 km (12.89 ft)
Duration: 4 hours 30 mins.
Highest altitude: 1,253 m (12.89 ft)
Lowest altitude: 911 m (12.89 ft)
Elevation gain: 405 m (12.89 ft)
Elevation loss: 419 m (12.89 ft)
Links to other trails:
SL-TF 60.1 Valle de Arriba
SL-TF 60.2 Las Manchas
SL-TF 201 Chio – Arguayo
PR-TF 43.3 Santiago del Teide – Chinyero Mountain
Protected Nature Areas:
Chinyero Special Nature Reserve
Corona Forestal Natural Park
Authorisation required: No
Trail description
The trail starts in the square by the Town Hall. Most of the way, you will be following the PR-TF 43.3 trail, which leads to the Chinyero volcano. Starting at the square, take Calle La Placeta to the right, all the way to the end, and turn left then right straight away, along Camino del Cementerio (Cemetery Lane). A few yards ahead on the left you will see the start of the trail signposted with an arrow. Follow the trail until you come to a broader path (Camino de los Arrastraderos), beside a distinctly triangular dam. Here, veer right and follow the path upwards to a crossing, which is also signposted with arrows, allowing you to head towards Valle de Arriba, to Las Manchas or straight up towards Arguayo.
Carry straight on following the signs until you come to El Calvario de los Baldios. Here, take the earth track to the right and you will eventually see the remains of one of the Chinyero volcano's lava tongues. Take the trail across it to another signposted crossing pointing you either towards the next stretch of the PR-TF 43.3 trail or straight on towards Arguayo. Choose the latter. From there, follow the signs that lead you gently down until you begin to glimpse the town. Once you have made it to the main road, steer right and carry on along Calle San Agustin, then Calle San Luis until you join Calle El Carmen. Turn left onto Calle El Carmen and follow it all the way to the end, where you will come to the Arguayo Pottery Centre, your final destination.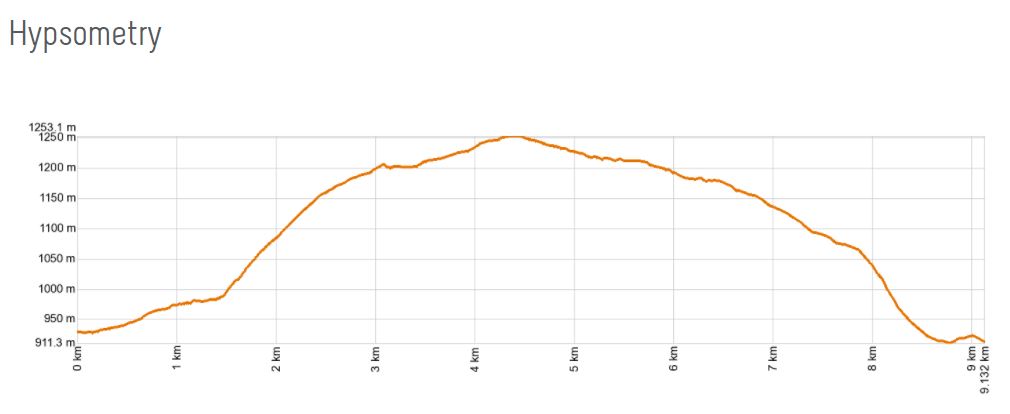 Download free maps Tenerife hiking trail
SL-TF 60 Santiago del Teide – Arguayo (Almond Blossom Route) KML
Also see walking routes:
Remember: Prevention, Information and Knowledge are the key to avoiding unpleasant situations.
Make sure you always have somebody else to walk with, stick to the marked footpaths and respect the way of life, privacy and property of the local inhabitants.
If you keep your noise levels down, you will discover just how much life there is all around you.
Take any rubbish with you, even organic waste. This will help preserve the beauty of the scenery and prevent the proliferation of rodents in the area. Take special care with cigarette butts.
Picking up plants, animals or other items from the environment may entail the loss of irreplaceable resources.
The people who take care of these Protected Nature Areas would be very grateful if you let them know about any incidents you may have noticed on your walk.
Remember that the Island's environment is as unique as it is unpredictable. It must be enjoyed responsibly and sensibly. Take special care in natural areas and don't forget that accidents can happen at any time.
Pay attention to signs.
Check the weather forecast? to make sure the conditions are suitable.
Wear suitable clothing and footwear for hiking and always pack your mobile phone, sunscreen, a hat, a coat, a waterproof, enough food and plenty of water in your backpack.
Let your family and/or friends know which route you will be taking and bear in mind how many daylight hours you will need to complete it.
You May Also Like:
Hundreds of people enjoyed the guided route of the Almond trees in Bloom in Tenerife