Tenerife has a world of natural beauty within its shores. With microclimates that change every ten kilometres, Tenerife is a landscape of contrasts: a volcanic island, with stunning beaches and coastal paths that run alongside mountain tracks, woodland paths and watercourses that cross the lush terrain.
With more than 1,000 kilometres of trails, hiking in Tenerife is the best option for exploring the island's nature on foot. In Tenerife climate allows you to go hiking all year round, except when snowfalls prevent access to the Teide trails in winter. On some days the bad weather can affect the condition of the trails. For this reason, it is important to always consult the weather forecast before setting out on the route, and to stay well informed about the paths ask the tourist information offices and visitor centres.
The island brings together an enormous variety of landscapes and ecosystems and over 47% of the territory is classified as protected in one way or another. These protected natural spaces have a rich legacy of history and natural beauty, and each footpath offers surprising insights into the heritage of the island and each step, brings visitors closer to discovering the real Tenerife, whether meandering along ancient watercourses, treading woodland paths, or enjoying a variety of spectacular views.
The network of footpaths on the island is growing daily. New routes are rehabilitated and put back into use, offering an increasing variety of opportunities to experience the natural world first hand. Many of these footpaths have been improved to meet the European standards of the ERA (European Ramblers Association) which guarantees the quality of the signage and levels of safety. As time goes on, the island becomes more populated with local footpaths, short routes and longer routes which will soon make it possible for visitors to walk from one side to the other, or complete a circuit of the island.
This network of footpaths means that visitors can increasingly enjoy the natural treasures of Tenerife in safety.
Tenerife is a fantastic holiday location for walkers and hikers. Fascinating routes course through dense forests, plunging ravines, 'other worldly' volcanic landscapes and unspoiled coastlines; in some places it's possible to walk all day and never encounter another living soul.
Tenerife on foot – the best footpaths in Tenerife map pdf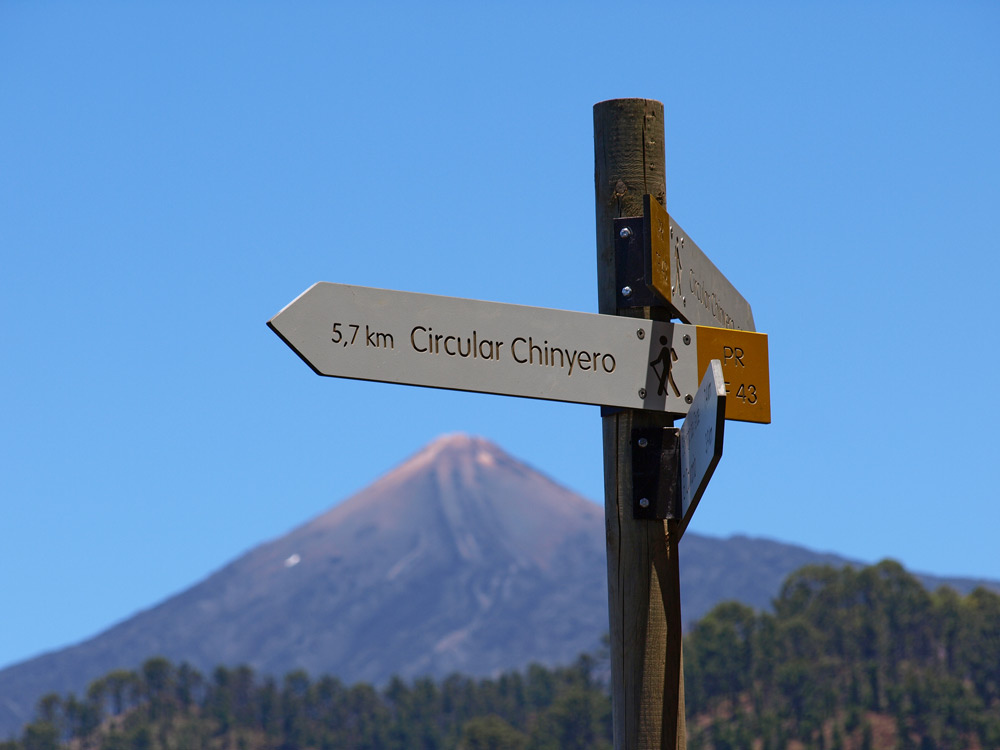 Tenerife is a mountainous island characterised by valleys and ridges rising to high mountain plateaus and 3km peaks. Most walks are on trails and footpaths which can be rocky and steep in places, but offer spectacular views and stunning scenery.
Types of trails
Trails are identified by letters and a number. There are three main types of trails:
GR or Great Route, which takes more than a day to cover.
PR or pequeño recorrido, indicating a short route less than 50 Km long that can be covered in a day.
SL or local trail, less than 10 Km long, which links longer trails or takes in short local loops.
The advantages of approved trails
The Cabildo Insular de Tenerife or Island Council is designing a network of trails in accordance with the international regulations of the European Ramblers' Associations (ERA), which have been approved or are pending approval by the Spanish Mountain Sports Federation (FEDME).
All the trails in this network are approved or pending approval. In order to achieve this distinction, routes have been carefully designed and prepared.
Each trail will also be fully waymarked with standardised, user-friendly signage, and a topo guide will be made available to pack away into a rucksack.
The approved trails are marked with their own simple signage code, which is part of an attempt to unify trail signage criteria throughout Europe.
Tenerife walking routes, hiking trails Tenerife
Remember: Prevention, Information and Knowledge are the key to avoiding unpleasant situations.
Make sure you always have somebody else to walk with, stick to the marked footpaths and respect the way of life, privacy and property of the local inhabitants.
If you keep your noise levels down, you will discover just how much life there is all around you.
Take any rubbish with you, even organic waste. This will help preserve the beauty of the scenery and prevent the proliferation of rodents in the area. Take special care with cigarette butts.
Picking up plants, animals or other items from the environment may entail the loss of irreplaceable resources.
The people who take care of these Protected Nature Areas would be very grateful if you let them know about any incidents you may have noticed on your walk.
Remember that the Island's environment is as unique as it is unpredictable. It must be enjoyed responsibly and sensibly. Take special care in natural areas and don't forget that accidents can happen at any time.
Pay attention to signs.
Check the weather forecast? to make sure the conditions are suitable.
Wear suitable clothing and footwear for hiking and always pack your mobile phone, sunscreen, a hat, a coat, a waterproof, enough food and plenty of water in your backpack.
Let your family and/or friends know which route you will be taking and bear in mind how many daylight hours you will need to complete it.