Villas for sale in Tenerife
---

Looking for a villa in Tenerife? We offer a vast array of villas for sale in Tenerife. Villas of different prices with an excellent location in Tenerife.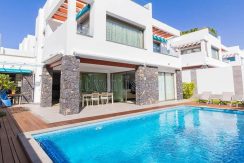 €1.100.000 - Villa in Tenerife
Wonderful luxury and exclusive villa with top quality finishes that enhance the good taste and technological innovation, with a minimalist modern style, which decoratively mixes…
More Details
€899.000 - Villa in Tenerife
Fantastic independent 5-bedroom villa for sale in Torviscas Alto, Costa Adeje, Tenerife. The villa has sea views and terraces from every floor, luxurious gardens and…
More Details
Latest Tenerife villas for sale
Find villas for sale in Tenerife

Searching villas for sale in Tenerife has never been more convenient. With Advartis Tenerife Property, you can easily browse through Tenerife villas for sale and quickly get a general perspective of the real estate prices. Also, you'll never miss a bargain if you filter listings based on property price.

Tenerife housing market overview

Advartis Tenerife Property gives you far more than a simple list of villas for sale in Tenerife. Get instant access to a lot of relevant information about Tenerife real estate, including property descriptions, maps and photos. The search results pages also have a wealth of information on Tenerife.

Tools you can count on

Use the map view to find Tenerife villas for sale, based on amenities or city features that you may want close by. You can close in on a specific neighbourhood. If you'd like to get in touch with a professional, agents are displayed next to their listings, and they're easy to contact through the online forms. Visit the Advartis Tenerife Property blog and you can find up to date expert advice on many markets throughout Tenerife, regular market reports, neighbourhood scoops in cities and useful recommendations.



It's easy to arrange a viewing – you can enquire through the website once you've located a property you like the look of, or email us. We'll then book you into the next available viewing. We will meet you at the property, show you around and answer any questions you have.