Playa de Las Vistas. Best beaches in Tenerife south
Los Cristianos, Arona, Tenerife, Spain
A beach for everybody!
Without doubt the longest beach in Arona, Playa de Las Vistas stretches for almost 1 kilometre joining Playa de Las Américas and Los Cristianos. Considered one of the points of interest on the island of Tenerife, this beach is characterised by its variety, activities and accessibility for all types of sun-bathers.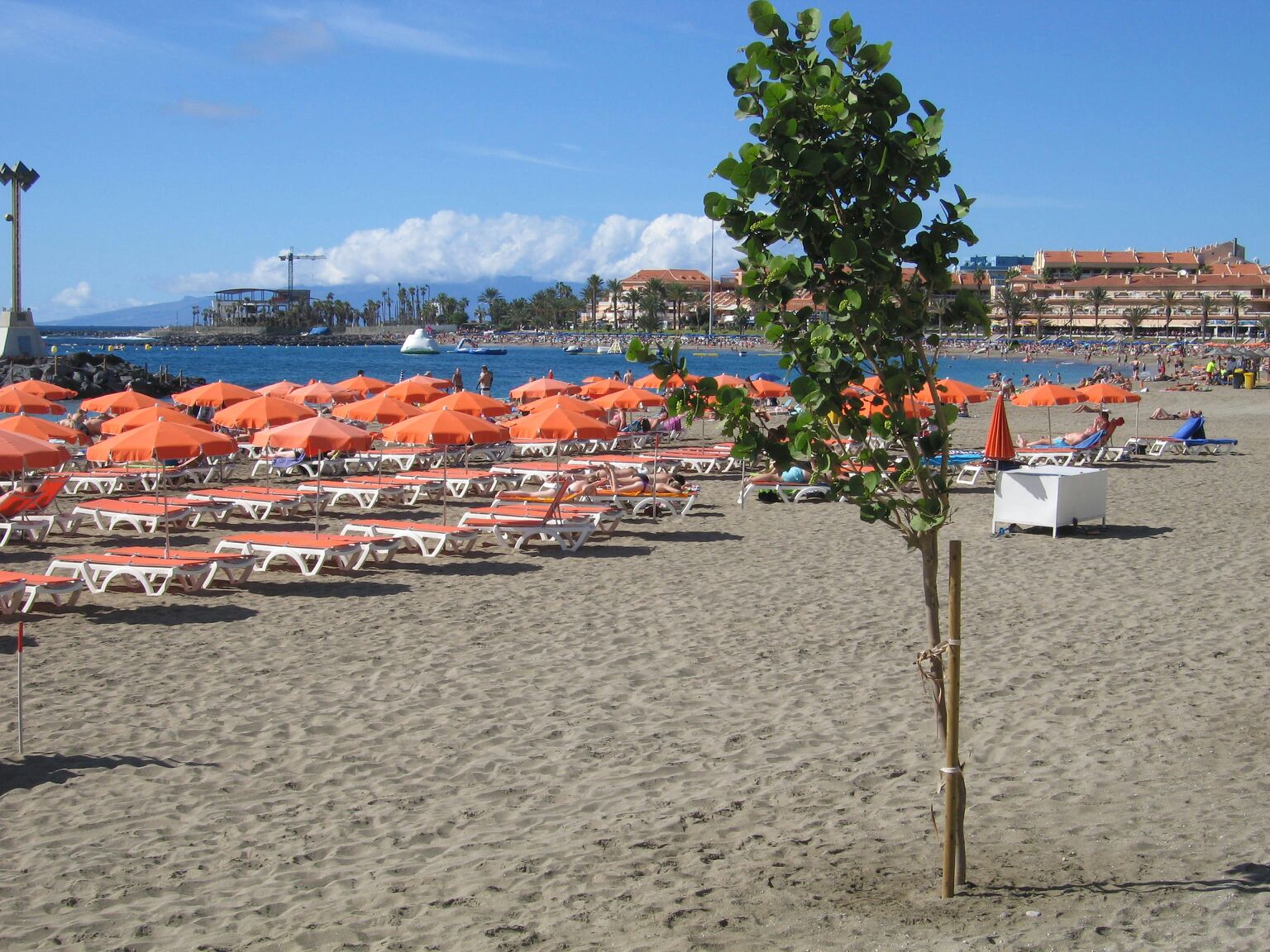 Playa Vistas beach Tenerife | White sand beaches in Tenerife
Playa de Las Vistas unfolds before the visitor's eyes, a beach suitable for relaxing, with an unsurpassable climate, different kinds of water activities and swimming in clean, tranquil water. It is not surprising that it is considered a beach for everyone, where tourists and residents can enjoy sun and sea for the four seasons of the year. Young and old, families and couples, Playa de Las Vistas is the perfect beach for your holidays.
Considered one of the most acclaimed beaches in Tenerife not only for its features but due to being a pioneer in accessibility in the Canary Islands, Playa de Las Vistas is one of the two most visited beaches in Spain by individuals with reduced mobility and has been awarded the thematic commendation "Beach Accessibility".
This completely accessible beach is the perfect place for tourists with reduced mobility thanks to its facilities without barriers, all types of adapted services and its calm waters. All added to the municipality's excellent climate all year round.
It has been awarded the Blue Flag for several years from the European Union due to its excellent features and available services.
HOW TO GET PLAYA DE LAS VISTAS
From the TF1 motorway heading towards Los Cristianos up to the marine terminal. Follow road indications. By public transport services: Numbers 110, 111, 473. 416, 467, 477, 417, 472, 418.
PLAYA DE LAS VISTAS BEACH CHARACTERISTICS
Length: 925 meters.
Width: 80 meters.
Occupancy rate: High.
Physical Location: Playa de Las Vistas esplanade. Limits: Playa de Las Américas via the esplanade. Close to Los Cristianos Marine .
Access to the beach: For pedestrians. Free parking. Private car parks in the vicinity.
Access Location for emergency vehicles: Yes.
Proximity to tourist area: Yes.
Type of beach: Artificial.
Swimming conditions: Calm water.
Morphology:Sand.
SERVICES AVAILABLE
Hammock and sunshade hire.
Walkways.
Showers/ Foot wash.
Wastepaper bins.
W.C.
Cleaning service.
Waste recycling containers.
Lifeguards, surveillance and life-saving equipment.
Accessible area for reduced mobility tourists.
Water activities (Jet ski, parascending, etc.).
Police safety.
Playa de Las Vistas Webcam at www.arona.travel.
ACCESSIBLE AREA IN PLAYA DE LAS VISTAS
Arona is a tourist destination with one of the largest number of reduced mobility tourists in the world. Playa de Las Vistas offers visitors an accessible area where the following services can be enjoyed:
Parking near the beach with reserved spaces.
Signposting of accessible itinerary, accessible beach and services.
Accessible itinerary.
Access ramp (–6%).
Amphibious chairs.
Amphibious crutches.
Hydraulic chair-lift.
Permanent wooden walkways.
Roll-up walkways.
Rest area with sun shades.
Surveillance area.
Adapted toilets.
Adapted shower.
Aquatic chair service:
The Marine Search and Rescue company located on the beach carries out the adapted bathing service free of charge.
Service: Service daily, all year round.
Timetable: from 10:00 to 17:00. 10:00 to 18:00 from July to September.
Reservations:Directly (the same day) at the surveillance post in the Accessible Area.
Groups should reserve the aquatic chair service by calling: 608 843 561.
Useful Information:
Children or individuals with mental disorders must be accompanied by an adult.
PLAYA DE LAS VISTAS AWARDS
Blue Flag.
From 1999 awarded by the FEEE (Foundation for Environmental Education in Europe).
"Beach Accessibility"
Thematic commendation awarded by the Association of Environmental Education and Consumer Affairs (ADEAC).
In Environmental Information and Education.
Thematic commendation awarded in 2010 for the development of various campaigns for raising awareness and cleaning the coastline in the entire municipality.
HISTORICAL DETAILS
The beach known as Playa de Las Vistas, resulting from recent remodelling and expansion works, took its name from the small beach nearest to San Telmo called ''Vistas del Camisón'' by local residents, joining up with "Playa de la Carnada" situated in front of Vintersol.
NEAREST TOURIST INFORMATION OFFICE
Playa de Las Vistas Tourist Information Office Tel: 922 787 011
Map coordinates: 28.050445,-16.717323
Best beaches in Tenerife: