Paragliding in Tenerife – Sites, Flying Destinations and Holidays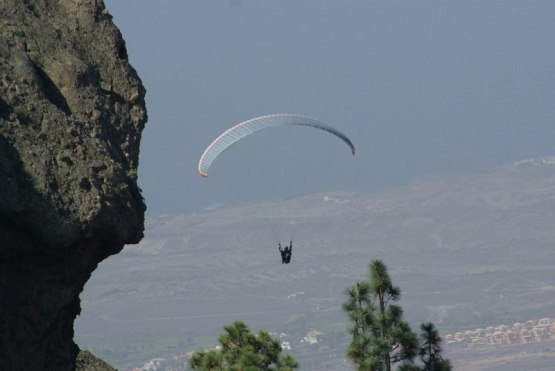 The Canary Island Federation of Air Sports provides information about different routes and the courses given by the island's paragliding schools and clubs. The following are the six most commonly used routes:
Route Izaña – Puerto de la Cruz
A half hour flight over the Orotava Valley, with a top to bottom height of 2,100 m, and landing in Playa Jardin (Puerto de la Cruz).
Route Izaña – Puertito de Güimar
These flights drop a total of 2,200 metres and cover a distance of 13 kilometres.
Route Tacoronte – El Sauzal
This flight covers 5 or 6 km from El Sauzal or Tacoronte, along the coast, up draught flight, and landing in Mesa del Mar (Playa de la Arena).
Route Icod el Alto – Playa del Socorro
Up-draught flight from La Corona soaring over Icod el Alto and Los Realejos, with a top to bottom distance of 800 metres. Landing on El Socorro beach or in Tigaiga
Route Taucho – Adeje
Thermal flying with top to bottom height of 800 metres and landing in Adeje.
Route Jama – Valle de San Lorenzo
Up-draught – thermal flight with a top to bottom height of 600 metres.
Flying zones
There are more than 40 commonly used take off points on the island Izaña South and Izaña North: Dorsal Range (Izaña, 2,350 m. altitude): Km 31 and Km 34 of the ridge road Tf-24 La Laguna – Las Cañadas; La Corona (Los Realejos): Los Patos (Santa Ursula); Cruz de la Lajita (La Orotava); Tierra del Trigo (Los Silos); Los Gigantes (Teno); Mesa del Mar (Tacoronte); Teno Alto; Mirador de El Tanque (El Tanque); Montaña de Guaza (Los Cristianos); El Boquerón (Tejina); Volcán de Güimar (Güimar); Las Gaviotas (Santa Cruz); Valle de San Lorenzo (Roque de Jama); Montaña de Fasnia (Fasnia); Ifonche and Taucho (Arona – Adeje)
Radio Frequencies: 141.610 MHz / 141.700 MHz
CANARY ISLAND AIR SPORTS FEDERATION – FECDA
C/ LEÓN S/N (CASA DEL DEPORTE)
35016 – Las Palmas de Gran Canaria
Tfno. / fax 928 334 805
PARAGLIDING CLUBS NORTH ZONE
Club: ALTO GUAJARA
URB. LA QUINTA C/ VINAGRERA, 39
38390 SANTA ÚRSULA
Teléfono: 922 33 75 86 – 649 363 876 ; Fax 922 38 57 82
Club: ATLANTIDA
C/Jorge Manrique nº 1, 4º-2
38005 Sta. Cruz de Tenerife
Teléfono: 922 500 774 ; Fax 922 500 774
Club: CORONA DEL TEIDE
Ctra. Vieja La Victoria 67, Edf. Cólogan vvda. 16
38380 LA VICTORIA
Teléfono: 922 363 088 ; Fax 922 363 088
Club: EL CARDUMEN
Vuelos biplaza en parapente.
Avda. Melchor Luz, 3 – Edificio Principado
38400 – Puerto de la Cruz
Tel: 922 368 468 – Móvil: 670 383 007
Club: IBRAFLY
C/ EL TOSCAL, 83
38417 LOS REALEJOS
Teléfono: 609 546 192 ; fax 922 363 088
Club: NORTE
Apdo. Correos 134
38410 Los Realejos
Teléfono: 922 359 295 ; Fax 922 359 295
Club: PARAPENTE LIBERTAD
C/Perez Reyes s/n – Pabellón de Deportes
38350 Tacoronte
Teléfono: 922 563 251 ; 667 669 101 ; Fax 922 563 251
Club: PPT TFE
C/ Cupreso, portal 2 vvda. A-4
38390 Santa Ursula
Teléfono: 922 287 972 – 677 413 422
Club: PROSCRITOS
El Juego nº 10, 4º
38204 La Laguna
Teléfono: 922 279 781
Club: ROQUES DE ANAGA
C/ PIRIS, 18 VVDA 32 – EDIFICIO TAJINASTE
38410 LOS REALEJOS
Teléfono: 922 34 29 02
PARAGLIDING CLUBS SOUTH ZONE
Club: COSTA-ADEJE
C/ LA HOYITA, 8
38670 LOS OLIVOS – ADEJE
Teléfono: 637 559 222
Club: IZAÑA
APARTADO DE CORREOS, 198
38500 GÜIMAR
Teléfono: 650 520 673 – 630 951 522 – 635 051 175
Fáx: 922 523 389
Club: JAMA
C/ Era del Valo, nº 57
38626 Valle de San Lorenzo – ARONA
Teléfono: 922 722 379 ; Fax 922 722 379
Club: K-2
La Vera de Arriba, nº 39
38500 Güimar
Club: TAUCHO
LA CONCEPCIÓN, 25
38670 TIJOCO ALTO – ADEJE
Teléfono: 666 996 475
Club: TIERRA AIRE TENERIFE
C/ JARDIN BOTANICO, 31
38670 ADEJE
Teléfono: 922 782 627 – 637 858 203
Model Aircraft Clubs – PARACHUTING
Club: C.A.T. (TENERIFE Model Aircraft Club)
AVDA. BENITO PÉREZ ARMAS, 20 2º-D
38007- SANTA CRUZ DE TENERIFE
Pista en Llano del Moro – La Laguna
Teléfono: 607 941 963 ; Fax 922 294 453
Club: C. A. AEROBIO (Model Aircraft Club)
C/ LA HOYA, 41 – 3º
38400 PUERTO DE LA CRUZ
Teléfono: 692 171 161
Club: PARACLUB TFÑ (PARACHUTING)
Avda. del Generalísimo, 9 bajo – Edif. La Guaira
38530 Candelaria
Telf: 659 168 085