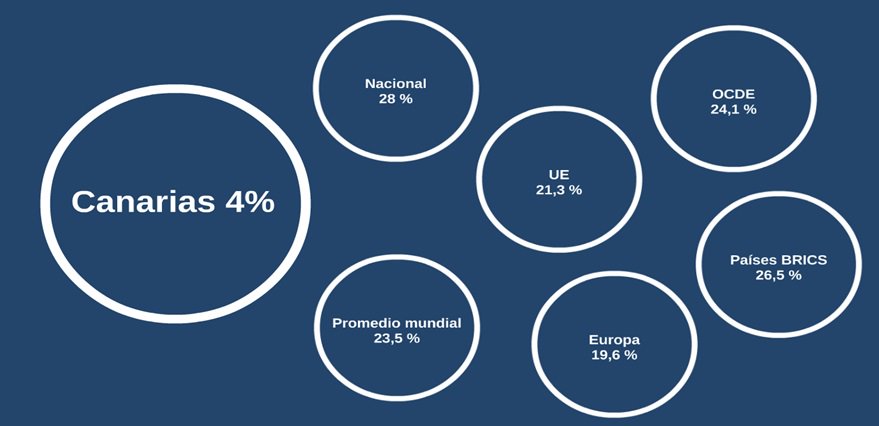 General information about Tenerife
Surface area: 2,034 sq. km – Tenerife is the biggest of the seven Canary Islands.
Population: 897,582 – Tenerife also has the largest population.
Official language: Spanish.
Time Zone: Greenwich Meantime (GMT).
Mild spring-like climate throughout the year with average temperatureat 22C (71.6F).
The highest number of sunshine hours in Europe: 3,000.
Currency: Euro (€).
GDP (PPP) per capita (Canaries): 19,568 €.
Productive sectors in the regional economy:
Services: 83.51%.
Industry: 7.99%.
Construction: 7.36%.
Primary sector: Agriculture, Stock Farming and Fisheries: 1.14%.
Working week: 40 hours/week.
Guaranteed Minimum Wage: 654.30 €/month or 9,034.20 €/year.
Tourists in 2014: 5.14 million (3.5% more than in 2013).
Excellent flight connections: 2 international airports with 203 airlines operating and connecting Tenerife to 160 airports.
Total passengers (air traffic): 12.2 million.
Total cargo (air traffic): 18.7 million Kg.
Excellent sea connections: 2 international ports with access to 278 ports worldwide.
3rd cruise port in Spain.
Best technology infrastructure in the Canaries.
5 convention centres on the Island including an Auditorium designed by Santiago Calatrava.
The best accommodation facilities in Europe: in Tenerife, 50% of hotels are 4- and 5- star.
Invest in Tenerife real estate
Property is one of the four most common investment practices alongside savings, shares and bonds. In this current financial climate, where savings offer low interest rates and the stock market appears volatile – property is widely considered the most attractive investment option.
We offer a great range of property investment opportunities in Tenerife whether it be for the Buy-to-Let investor, an owner-occupier, the luxury homeowner or the first time buyer. With over 15 years of market-leading experience, our objective has always been to seek out the best Tenerife investment opportunities for our loyal customer base and to share our knowledge of the next up-and-coming areas of hot Tenerife investment property.
With property in Tenerife there are two main ways of making an investment return:
Income producing – you can earn money by renting out the property
Capital appreciation – there is the potential to sell for a profit if the property increases in value
Why choose Tenerife to invest in real estate over other international beach destinations?
This is the question would-be buyers looking for a home in an idyllic location with sun, sea and excellent weather are asking themselves when Tenerife grabs their attention.
Stability, security, excellent value for money and sustainable development tip the balance in favour of a destination that has reinvented itself to cater for a new type of consumer.
South Tenerife, the perfect place to live. The climate is one of Tenerife's biggest attractions compared to other destinations in northern Europe. Undeniably, the island's excellent climate and unique natural landscape make it a dream place to live. If you compare Tenerife to other destinations on the Mediterranean, what will stand out is the type of visitor and resident that prevails in the area: nature lovers, sports enthusiasts seeking the tranquillity of exclusive golf courses, families looking for blissful natural destinations, etc. Tenerife is unique and known the world over for its manifold and monumental natural attractions; in short, it's a destination that never goes out of fashion and continues to welcome hundreds of visitors from all over the globe year after year.
Buy-to-Let property in Tenerife
A Buy-to-Let property in Tenerife is an income-producing residential investment, with potential for making a capital gain when the property is sold.
An investor buys a property either off-plan or immediately available and makes money on their investment by renting out the property in the short term, with the long term goal of making a profit on the property when they eventually sell it. Buy-to-Let property is generally seen as a stable, medium to long term, low-risk investment and has become a very popular income generating scheme.
Set up and grow your business in Tenerife
Tenerife offers unique benefits to set up your business, make it grow and internationalize it successfully.
Companies registering within the Canary Islands Special Zone (ZEC) automatically and permanently
benefit from this 4% rate applied on the gross tax base on operations carried out materially and
effectively in or from the Canary Islands.
Tenerife is a gateway to three continents thanks to its privileged geographical location. Its economic and social development as a member of the European Union, make it the best bridge between Europe, Africa and America.
Tenerife offers a safe, stable and fully reliable economic framework and more importantly it provides entrepreneurs with trained professionals who can carry out highly qualified tasks.
In Tenerife communications will be easier and safer thanks to its technological development and modern infrastructure: the 2nd most powerful supercomputer in Spain, multiple submarine high speed cable connection with Europe and West Africa and a Tier III+ Data Centre.
Best practices in the Canary Islands Special Zone (ZEC) regime
Canadian multinational company of the mining industry has established its African HQ in the Canary Islands
Various hotel companies have set up its reservations department in the Canary Islands
US telecom multinational based in Miami, with presence in 80 countries all over the World and in 3 African countries has established its African HQ in the Canary Islands
German multinational company world market leader in the large diesel engines for use in ships and power stations being one of the three world leading suppliers of turbo machines, has established a service company for operations in the Atlantic Ocean area
Italian multinational company focused on the manufacturing of building components, has set up a ZEC company for selling operations in Africa
German company market leader in nails and cosmetics has set up a service company, including trading operations and logistics
German multinational company wholesaler of components has set up a company for whole-selling operations in the African market
Swiss multinational in the oil business has set up a logistic center between Africa and Europe placing the Canary Islands in the bunkering services map
Norwegian R&D company has set up an R&D center to develop marine wage energy.
U.S. pharmaceutical has set up its manufacturing and logistics facilities for Africa
U.S. portable renewable energy tower systems company has set up an African logistics company
European leading IT services company has set up a subsidiary focusing in African operations
Free download reports pdf:
Tenerife fiscal incentives for the investment – Ernst&Young 

Doing business in Tenerife guide 

Tenerife tax incentives ZEC and free trade zone – PWC