The hotel and hotel establishments in Tenerife estimated to reach an average occupancy of 92% during this Easter (from 10 to 16 April 2017), according to the survey of occupancy forecast carried out on time by the Hotel and Extra-Hotel Association of Tenerife, La Palma, La Gomera And El Hierro, Ashotel.
While the southern part of Tenerife is expected to occupy 94%, an increase of 4 points compared to the same period of 2016, in the north is forecast an average of 88%, with an increase of 1 point with respect to the Week Santa, although it is important to bear in mind that last year this festive week coincided with the last days of March (March 20-27). For its part, the capital of Tenerife is expected to touch 67%, three points less on the real occupation of 2016.
With respect to the non-capital islands of the province of Tenerife, La Gomera foresees an occupation of 93% (+ 3%) and La Palma experiences a very similar behavior to last year, with an occupancy rate of 90% (+ 2%), , A fact that can not grow any more because there is no more accommodation capacity on the island, one of the demands of tourism entrepreneurs. For its part, El Hierro estimated to reach 85% on average, as in 2016.
These percentages will be slightly modified upwards, as Easter approaches, due to last minute reservations.
The data of this survey that Ashotel obtains via form corresponds in the case of Tenerife to a total of 71,497 beds, in La Palma to 5,966, in La Gomera to 2,457 and in El Hierro to 274 beds.
This year the winter season (until Easter) has been a little longer than usual, because it coincides in April, "which has allowed to keep the extra templates contracted more time to properly attend the temporality and closed month ", Explains the president of Ashotel, Jorge Marichal.
This also points out that there will be more hiring in the tourist sector, "especially in the so-called complementary leisure, since a very strong Easter is foreseen, not only in occupation but in internal displacements of the local market towards the tourist zones".
The following tables show the evolution of the real occupations in the different areas of Tenerife in the periods of Easter from the year 2006 to the forecast of this 2017.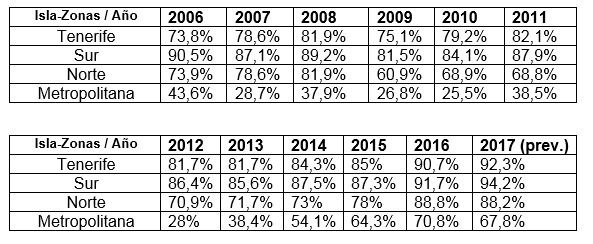 Why Tenerife is the perfect location for Easter break
The average temperature in Tenerife in April is around 17˚C, with highs of 20˚C, and you'll get a good 10 hours of sunshine every day. A good chance for a break from the somewhat cooler spring!
At Easter, you'll also enjoy a good sea temperature of 20˚C – perfect for trying all those watersports on offer. Surfers will love the waves up in Santa Cruz while windsurfers should check out the breeze in El Medano.
Courtesy of Sol Del Sur Tenerife
Photo Falcon Holidays