TENERIFE BEACHES ADEJE
Playa del Camison
Moving in towards Las Americas, this is an artificially created beach with golden sand. Backed by a line of palm trees next to a promenade featuring shops and restaurants, it is packed with sunloungers and umbrellas and, as it is a main tourist area, is likely to be quite busy.
Playa El Cabezo Grande
The main feature of this beach is that the fierce waves found there make it a centre for surfing.
Playa de Las Americas
Las Americas itself, paradoxically, doesn't have a beach as such. From the Camison beach up to Costa Adeje, the coastline is quite rocky. This natural environment boasts a few sunbeds and is ideal for people who want to avoid the crowds.
Playa Troya
Eventually, moving on clockwise round the island, we arrive at golden sand again, with this beach that was once actually called Playa de Las Americas (like the town). Totally tourist orientated, it is usually packed with sun worshippers and features sun loungers, umbrellas, showers, toilets and water sport opportunities like jet ski rental.
Playa del Bobo
Next to Playa Troya is this stretch of golden sand. It also has many facilities for tourists, with sunloungers, showers, toilets and changing rooms. A good, safe beach, where the sea is nice and calm for swimming. Police reguarly patrol the area and the beach has the distinction of featuring a rescue speedboat, should anyone get into difficulties.
Playa La Pinta
By now, we've reached the marina of Puerto Colon. Just beyond this, there is the beautiful, crescent-shaped beach, La Pinta. It's quite a sheltered spot and features showers, toilets and frequent police patrols, to ensure your safety.
Playa Fañabe
Further north, this fine beach stretches all the way from Torviscas to the extremely upmarket Del Duque area. With its huge swathe of golden sand, it is one of the most beautiful beaches in the south of the island. It features showers, changing rooms, toilets and has lifeguards standing by. The sea at this point is usually pretty calm, so is ideal for swimming. It's very popular, so can get really crowded.
Playa del Duque
Just the other side of a small promontory from the previous beach is this very, very upmarket artificially created one. Featuring grey sand, it is quite small and select. Very calm offshore waters ensure safe swimming and the whole area is very well kept and clean.
Playa Diego Fernandez
Approaching La Caleta, there is this beautiful swathe of white, volcanic sand, with calm waters ideal for swimming. It doesn't get too crowded.
Playa La Enramada
Next along is this beach of grey, volcanic sand, recently renovated and not crowded at all. At the moment it has no facilities.
Playa La Caleta
Just a bit further on is this small, rocky beach that never gets very crowded. The sea off its shore is usually quite lively, so not the best place to take children. There is also a nudist area.
El Puertito
Further up the Adeje coast is this tiny village with a small inlet that has a little stretch of sand. Totally unspoilt, it is more representative of Tenerife before the tourists arrived.
Playa Paraiso
"Beach paradise" is the translation of this place, next along the coast. The town is a small tourist area and features a cove, rather than a beach, so the name is a bit of a misnomer. There has, however, been a new beach installed, a few palm trees planted and some sunloungers scattered around.
Playa de Callao Salvaje
Right at the northenmost boundary of Adeje is this small village, featuring an equally small beach. It consists of dark sand and rocks, completely non-tourist and, therefore, pretty much deserted most of the time.
TENERIFE BEACHES ARONA
Working round clockwise, the coastline of the municipality of Arona begins with the town of Las Galletas, then extends round to include the major town of Los Cristianos. These are the beaches you'll find.
Playa Las Galletas
This is a quite long beach attached to this small fishing village on the south coast. It has sand, but can be quite rocky in places. There are usually sunbathers and swimmers, but it tends not to get too crowded.
Playa de Palm-Mar
Between Las Galletas and Los Cristianos, there is the tiny community of Palm-Mar. It has its own "beach", but, trust me, it's just an expanse of rocks and pebbles.
Playa Callao
We are now approaching Los Cristianos and this is a small, rocky beach at the base of Montaña de Guaza, the flat topped mountain overlooking the town.
Somehow fittingly, this is a nudist beach and is not that well known. (I need to warn straight people at this point that it is also a recognised cruising area for gay people.) During the day, though, it's a great spot for getting an all-over tan. The downside is that a well-known Tenerife walk passes this point, so you may find sundry hikers trudging past getting an eyeful of any sights on offer!
Playa Los Cristianos
Into Los Cristianos itself and this beach is a fine expanse of golden sand that overlooks the busy harbour.
If you get bored with sunbathing, there's a beach volleyball court.
Playa Las Vistas
By far, the best beach in Los Cristianos. Awarded the blue flag, this glorious stretch of golden sand is packed with sunloungers and even features a fountain, where sunbathers can cool off, if they don't fancy a dip in the sea. Another commendable feature of this beach is that it is totally wheelchair-friendly.
There are now only a few totally or almost unspoilt beaches in the Tenerife. This is a selection of the best beaches outside the official guides, frequented by locals and avoiding the most overdeveloped areas.
PLAYA DEL SOCORRO
This beautiful black-sand beach is to be found in Los Realejos in the north of Tenerife. This is one of the island's surfing hotspots, and is also used for other water sports and as a landing strip for paragliding. Bathers should beware of strong currents . It is accessible by car and on foot.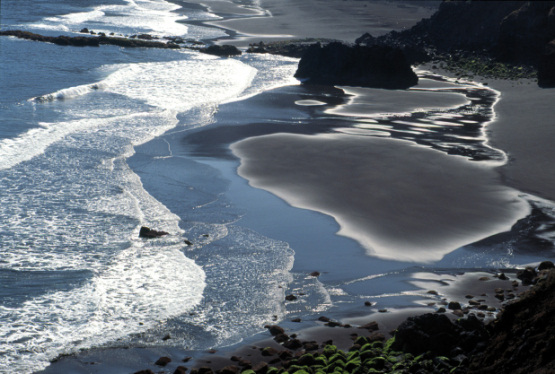 PLAYA DE BOLLULLO / PLAYA DE LOS PATOS
Surrounded by volcanic landscapes and indigenous vegetation, including dragon trees, you can get to Playa de Bollullo beach by walking from Puerto de la Cruz. Being on the northern coast, heavy waves are inevitable, so you should be careful when swimming. From here we can continue on to Los Patos beach, which is equally charming, and even more appreciated by surfers. There are no services at the beach, but there is a restaurant nearby. Nudism is common in the area.
PLAYA DE BENIJO
This beach's unique landscape charms are to be found in the Anaga area. The locals claim this to be one of the most beautiful dark-sand beaches anywhere in the Canary Islands. Although nudism is not in the majority, it is common. The beach is only suitable for paddling due to its dangerous waves. You can get to the beach by car and eat at nearby beach bars.
PLAYA EL MEDANO / PLAYA DE TEJITA
The El Medano, a paradise for windsurfers, and Tejita beaches, more suitable for swimming, are to be found at the foot of the Montaña Roja in Granadilla de Abona. They are famous for being among the largest in Tenerife, with fine sand and calm, transparent, shallow water. As we move further north we come across a small cove that is suitable for nudism, although waves are stronger here.
There are some hidden gems just two or three kilometres to the north of Santa Cruz de Tenerife that don't attract the crowds. For example, Playa de Antequera is a spectacular untouched volcanic beach in a wild setting. There are no roads to the beach, but you can reach it by a three-kilometre trek from Igueste de San Sandrés. If you don't have the time or energy for this, you can take a boat from the town or from Santa Cruz, which is what most people do. The same is true of Playa de las Brujas beach, although in this case you can't even hike there: you have to take a boat.